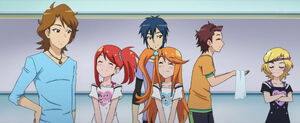 There are three love interests in Pretty Rhythm Aurora Dream. They consist of one of the girls from MARs, and one of the Callings members. Aira & Shou, Rizumu & Hibiki, and Mion & Wataru.In Pretty Rhythm Dear My Future the love interests are: Reina has a crush on Itsuki and  So Min in Yun-su.
Pages in category "Main Love Interests"
The following 7 pages are in this category, out of 7 total.