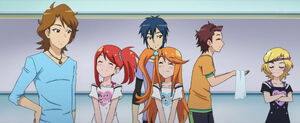 There are three love interests in Pretty Rhythm Aurora Dream. They consist of one of the girls from MARs, and one of the Callings members. Aira & Shou, Rizumu & Hibiki, and Mion & Wataru .In Pretty Rhythm Dear My Future the love interests are : Reina has a crush on Itsuki and  So Min in Yun-su.
Pages in category "Main Love Interests"
The following 8 pages are in this category, out of 8 total.
Ad blocker interference detected!
Wikia is a free-to-use site that makes money from advertising. We have a modified experience for viewers using ad blockers

Wikia is not accessible if you've made further modifications. Remove the custom ad blocker rule(s) and the page will load as expected.