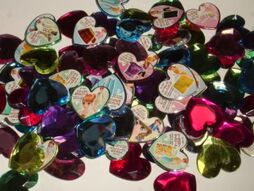 Prism Stones are plastic toys that are used in the Pretty Rhythm arcade game to dress up the character of the player's choosing. The player is allowed to use 5 different stones for each play session. Although there are five categories- hair, visual, tops, bottoms, and shoes- Dresses and shirts are both tops (even though dresses cannot be paired with bottoms), and make-up and necklaces are both visual items (make-up and necklaces can be worn together). Although the player will receive a Prism Stone per 100 yen (about US$1) play, the player also has a choice to purchase more for 100 yen a piece (although additional carats are added to the player's Memory Pass). Prism Stones can also be purchased in set packs or random toy packs, and can also be received through promotions through magazines or tournaments.
The different types are: Ethnic, Cool, Pop, Sexy, Lovely, Feminine, Surprise, and Star.
Subcategories
This category has the following 10 subcategories, out of 10 total.
Pages in category "Prism Stones"
The following 200 pages are in this category, out of 1,029 total.
Ad blocker interference detected!
Wikia is a free-to-use site that makes money from advertising. We have a modified experience for viewers using ad blockers

Wikia is not accessible if you've made further modifications. Remove the custom ad blocker rule(s) and the page will load as expected.