Chisato Ibara
Kanji
荊千里
Rōmaji
Ibara Chisato
First Appearance
Profile
Gender
Female
Hometown
Prism World
Current Residence
Tokyo, Japan
Hair Color
Brown
Eye Color
Green (Android)

Black (Pair Friend)

Affiliation
Prism Stone Harajuku
Voiced by
Japanese
Chie Koujiro
Other
Chisato Ibara is the alias for Prism World resident Momo. As Chisato, she owns the store Prism Stone Harajuku in Tokyo, Japan. In the human world, she works as the guardian of Rinne in Peacock's absence. Although she seems like a serious woman, she forgets important facts often, and enjoys eating sweets more than anything. The human form is actually an android controlled by Momo, who resides within it in order to blend into human society.
At the end of the series, she is known by the whole Prism World  as a legendary clothes designer (as Momo).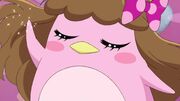 Ad blocker interference detected!
Wikia is a free-to-use site that makes money from advertising. We have a modified experience for viewers using ad blockers

Wikia is not accessible if you've made further modifications. Remove the custom ad blocker rule(s) and the page will load as expected.