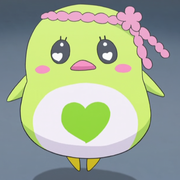 Ethni is the pair friend of Wakana Morizono in Pretty Rhythm Rainbow Live. She can transform into mallets that Wakana uses during a Prism Live. She represents the element Ethnic.
Appearance
Edit
Ethni is a light green penguin with a lime green heart on her stomach. She has pink cheeks and yellow feet, and a pink beak. Her eyes are grey, with the bottom pupil shaped like a heart. She wears a pink floral head piece.
After dealing with pressure gained from Bell, Ethni hatched when Wakana was able to get past it. 
Ad blocker interference detected!
Wikia is a free-to-use site that makes money from advertising. We have a modified experience for viewers using ad blockers

Wikia is not accessible if you've made further modifications. Remove the custom ad blocker rule(s) and the page will load as expected.