Fluffy Snow One Piece
Kanji
ふわふわスノーワンピ
Rōmaji
Fuwafuwa Sunō Wanpi
Data
Fashion Element
Star
Rarity
Normal Stones
Release(s)
Season 3
Fluffy Snow One Piece is a star-type Prism Stone worn by Mion Takamine in Pretty Rhythm Aurora Dream.
Description
Edit
A bright, light blue gradient dress with a fluffy white band lining the bottom and a pale blue one around the top of the chest. A blue ribbon is sewn to the side of the chest, while wrapped around the waist are two silver chains, one of which has a few silver charms. Comes with a white collar and gloves that end just beneath the shoulder.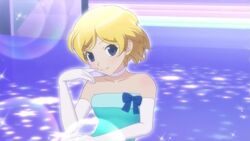 Mion wore this in Pretty Rhythm Aurora Dream.
Ad blocker interference detected!
Wikia is a free-to-use site that makes money from advertising. We have a modified experience for viewers using ad blockers

Wikia is not accessible if you've made further modifications. Remove the custom ad blocker rule(s) and the page will load as expected.