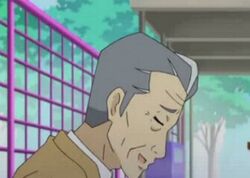 Hifumi Yanagi
is a minor character in
Pretty Rhythm Dear My Future
. He met Reina, Jae Eun and Ayami after attempting a Prism Act. He is married to
Yukie
, a former Prism Star.
Personality
Edit
Hifumi is a very kind and persistant man. He is very loving to his wife, especially.
Pretty Rhythm Dear My Future
Edit
Yanagi tried to do a Prism Act and failed, falling on the icy floor. Reina, Jae Eun and Ayami saw him and helped him up. He invites the girls over to his home and introduces them to his wife. During lunch, Hifumi explained that he wanted to perform a Prism Act for his wife, Yukie, on their 50th anniversary to remind Yukie of her days as a Prism Star. However, Reina refuses to let Hifumi perform a Prism Act because of his old age, and instead, she suggested that she, Jae Eun, and Ayami will perform one for them. Hifumi was very thankful and accepted Reina's offer.
The Prism Act they performed for Hifumi and Yukie is called "Shall We Dance?"
Relationships
Edit
Yukie is Hifumi's wife.
Ad blocker interference detected!
Wikia is a free-to-use site that makes money from advertising. We have a modified experience for viewers using ad blockers

Wikia is not accessible if you've made further modifications. Remove the custom ad blocker rule(s) and the page will load as expected.