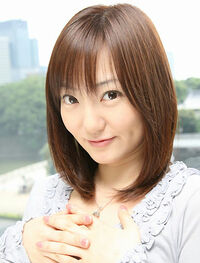 Kana Asumi is the voice of Aira Harune in Pretty Rhythm Aurora Dream and it's sequel, Pretty Rhythm Dear My Future, and is also the voice of Tsuru Suzuno in Pretty Rhythm Rainbow Live. She was previously a member of the 3-seiyuu singing unit, LISP, along with Sayuri Hara and Azusa Kataoka, voices of Rizumu Amamiya and Mion Takamine, until they disbanded in 2011. She married a man outside of the industry in January 2014.
Other Roles
Edit
Video GamesEdit
Anette in Rune Factory Frontier (Wii)
Melba in Galaxy Angel II (PS2)
Blanc/White Heart in Hyperdimension Neptunia (PS3)
Mariboa in Erementar Gerad: Limited Edition Manga Volume 17 Drama CD (Drama CD)
Momori Iba in Moe-yu (Mobile App)
Ad blocker interference detected!
Wikia is a free-to-use site that makes money from advertising. We have a modified experience for viewers using ad blockers

Wikia is not accessible if you've made further modifications. Remove the custom ad blocker rule(s) and the page will load as expected.