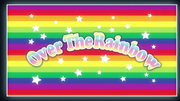 Over The Rainbow is a boy Prism Show unit in Pretty Rhythm Rainbow Live that consists of Kouji Mihama, Hiro Hayami, and Kazuki Nishina. They formed the team at the end of the series.
King of Prism
Edit
In the King of Prism Movie, Over The Rainbow, also known as Obare, has become an extremely popular Prism Boy Unit. Kouji receives an offer from Hollywood to produce music for a large musical production and accepts for the sake of Edel Rose. At the Rose Party, Kouji announces Over The Rainbow's indefinite hiatus and Hiro and Kazuki's participation in the upcoming Prism King Cup.
Prism Jumps
Edit
Their unit name is based upon the memento of Takeyuki Mihama, Kouji's father.
Image Songs
Edit
Ad blocker interference detected!
Wikia is a free-to-use site that makes money from advertising. We have a modified experience for viewers using ad blockers

Wikia is not accessible if you've made further modifications. Remove the custom ad blocker rule(s) and the page will load as expected.