Home
Talk

8
790pages on
this wiki
WARNING!!!
Spoilers are at the Aurora Rising level! There are spoilers on almost every page on important details in the story and plot twists! Do not look through this Wiki unless you are prepared for that.
    Only edit AFTER you've read the Page Guidelines! Blocking is inevitable for those who don't follow these!
Update on Grammar
Anyone, and I mean, anyone! Who writes with terrible grammar that is so obviously bad it is just pitiful, you will be banned from editing. Possibly permanently. I can't deal with this many bad edits. Good grammar is something so easy that 1st graders can do it! Don't show your stupidity just because you're on a computer! This is a new policy. I can understand little mistakes, like a typo, or one missed capital, but when your entire entry looks like this:
naru ayase is the main character ov pretty rhythm rainbow live who is lovely and owns a store. she has a penguin, its name is RAburin.
I will ban you right away. No questions.
Welcome to the Pretty Rhythm Wiki!
This is a Wiki with information about the anime, Pretty Rhythm Aurora Dream, and its sequels, Pretty Rhythm Dear My Future, and Pretty Rhythm Rainbow Live. I hope to make this Wiki as clean and as helpful as possible. I am very, very, very inexperienced at the Wiki coding, so if anyone can help out, I will be thankful. Of course, if you would like to add articles, or add to existing ones, it would be much appreciated. HOWEVER! I know Wikia standards are usually loose, but mine are not. I will require all additions to have near-perfect grammar and spelling, and to be clean. I want all pages to end up with sufficient information as well.
What is Pretty Rhythm?
Pretty Rhythm is an arcade game created by Takara Tomy and Shin Sophia, originally called "Pretty Rhythm Mini Skirt" for the arcade game. From its popularity, it spawned a TV anime, "Pretty Rhythm: Aurora Dream", and a sequel "Pretty Rhythm" Dear my Future". The anime is made up 3/4 of animation, while the other section has a live-action segment where young girls learn how to become "Prism Stars" by coordinating fashion and learning dance routines.
News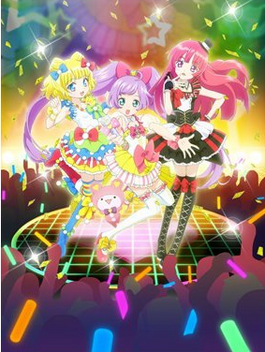 Yesterday, a new "Pretty Rhythm" series was announced. I say "Pretty Rhythm" because it looks nothing like previous Pretty Rhythm series, and has none of the elements from previous shows, including Prism Jumps, stones, or SKATES. The anime is basically a promotional vehicle for Iris, and is also a carbon copy of Aikatsu (something that copied PRETTY RHYTHM in the FIRST PLACE). I've been thinking very hard since it was announced, and I've made a decision.

THE PRETTY RHYTHM WIKIA WILL NOT RECORD ANY INFORMATION ON PRIPARA (Prism Paradise).
Not the outfits, not the characters, nothing. This is not Pretty Rhythm. It is not even CALLED Pretty Rhythm. Anyone who is caught putting pages or information on this series will be warned, and if infractions continue to occur, they will be BANNED from the Wiki. If you want to record this information on a Wikia, please make your own.
However, the review season Pretty Rhythm All Star Selection WILL be recorded. This series is considered a "farewell" to Pretty Rhythm.
Thanks for three awesome years, Pretty Rhythm. You will be missed.
Latest activity