Seventh Coordinate Cool Dress Brilliant Style
Kanji
セブンスコーデクールドレスブリリアントスタイル
Rōmaji
Sebunsu Kōde Kūru Doresu Buririanto Sutairu
Data
Fashion Element
Cool
Rarity
Pretty Rare
Release(s)
Session 03 (Rainbow Live)
Seventh Coordinate Cool Dress Brilliant Style is the evolved form of the Seventh Coordinate Cool Dress. It goes to together with the Seventh Coordinate Cool Shoes Brilliant Style worn by Ito Suzuno in Pretty Rhythm Rainbow Live.
Description
Edit
Upgraded, the attire gains several minor changes. The colla gains white lining while the top and shorts gain a glittering texture. The chest gains five silver straps, each held with amethyst buttons, along with a silver music note pin. Strings connect the four buttons on the belt. Included are black arm sleeves with two holes cut out of them.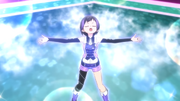 Ito gained this upgraded form of her previous outfit and started to wear it.
Ad blocker interference detected!
Wikia is a free-to-use site that makes money from advertising. We have a modified experience for viewers using ad blockers

Wikia is not accessible if you've made further modifications. Remove the custom ad blocker rule(s) and the page will load as expected.