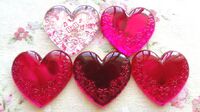 Sexy is one of the fashion elements in the Pretty Rhythm game and anime. The element is represented by the color magenta or red.
Characters Represented by This Element
Edit
Serena Jounouchi - A member of Serenon (Also known as Serenon with K).
Mia Ageha - The self-proclaimed leader of Prizmmy, and leader of the shuffle unit COSMOs.
Bell Renjoji - Leader of Bell Rose and Prism Queen.
Stones With This Element
Edit
Accessories
Edit