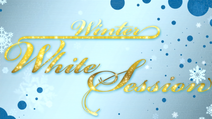 Winter White Session 
is a duo-tournament where contestants perform and compete together. This is the first tournament
June Amou
participated in since the
Over The Rainbow Session
tournament.
Participants
Edit
Prism Team Outfit List
Edit
Ann & Wakana
Edit
Ann: Cosmic Asymmetrical Shirt, Cosmic Space Skirt, Cosmic Asymmetric Boots
Wakana: Cosmic China Top, Cosmic Shooting Star Short Pants, Cosmic Asymmetric Tights & Pumps
Ito & Otoha
Edit
Ito: Royal Mannish Jacket, Royal Mannish Smart Pants, Royal Slash Pumps
Otoha: Royal Märchen Princess Dress, Royal Märchen Shoes
Naru & Bell
Edit
Naru: Happy Naru Duck Hair, Happy Naru Duck One Piece, Happy Naru Duck Shoes
Bell: Beautiful Feather One Piece, Beautiful Feather Pumps
Rinne & June
Edit
Rinne: Colourful Rainbow Wedding Dress, Miracle Rainbow Boots
June: Midnight Dream One Piece, Midnight Dream Lace Shoes
Winter White Session Gallery
Edit
Ad blocker interference detected!
Wikia is a free-to-use site that makes money from advertising. We have a modified experience for viewers using ad blockers

Wikia is not accessible if you've made further modifications. Remove the custom ad blocker rule(s) and the page will load as expected.