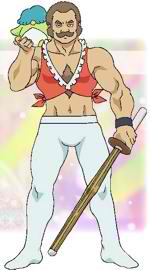 Yamao Yamada is the "manager" of the dance school Pretty Top and is strange just like Penguin-sensei. He carries Penguin-sensei on his shoulder, and the only thing he says is "Yamada-desu". In rare cases, Yamada does say other things. Yamada has brownish skin and big muscles. His age is around 45-46 years old.
According to the Pretty Rhythm All Star fanbook, Yamada had been aiming to be a voice actor in his youth.
Ad blocker interference detected!
Wikia is a free-to-use site that makes money from advertising. We have a modified experience for viewers using ad blockers

Wikia is not accessible if you've made further modifications. Remove the custom ad blocker rule(s) and the page will load as expected.